At JMPS we acknowledge that our school has an important role to play in supporting the development of lifelong healthy eating habits.  We have a Healthy Eating Programme in effect throughout the school.  We encourage all children to eat fruit at break time and have nutritious, healthy lunches each day.
For Healthy Eating for Children guidelines Click Here 
For Healthy Lunch Box ideas Click Here
For nutrition and oral health advice Click Here
In 2019 JMPS was the highest scoring primary school in the Western Area in the Action Cancer Gold Health Awards.
The school was applauded for its:
Whole school approach to health promotion, its effective pastoral care system and the way in which achievements and success is celebrated

The way in which pupils are included in decision making and how their views and opinions are taken into consideration, how the school collaborates and works with outside agencies and those in the local community and the way the school has worked to enhance its physical environment.

The judging panel were also impressed with the way in which healthy snacks and lunchboxes are promoted and the extensive and wide range of sports offered through P.E and as extra-curricular activities, and how

active, positive play was promoted in all playgrounds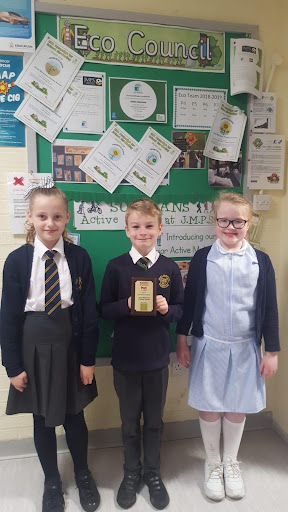 Day yet to be decided  
Mrs Graham, Mr Barbour, Mrs Emerson & Mrs King
Pupils welcome.
Shortly we will be able to offer a programme called "Heartstart" to your child as an after school activity.  The programme teaches children emergency life support skills including how to deal with :-
°       A Conscious Casualty
°       An Unconscious Casualty
°       A suspected heart attack
°       Choking
°       Serous bleeding
°       Cardiac Arrest  CPR
The course is affiliated with the British Heart Foundation and aims to give your child confidence, by preparing them to cope in a life-threatening emergency.  It also enhances their life skills –  and it's fun!
Please note, it is important for children to attend each week in order to complete the course and achieve their certificate.  There will be a short practical test at the end to ensure skills have been achieved.